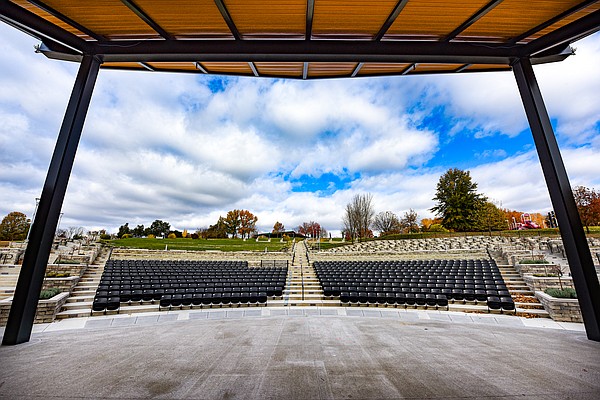 A jam-packed musical summer at midday
For some, summers mean camping and long hours in the pool. For others, summer is all about attending as many concerts, live events and festivals as possible – and with two thriving regional amphitheaters and an upcoming fair in mid-August, concert-goers will be spoiled for choice in Mid-Missouri.
Below is a list of artists and acts coming to the MU Healthcare Amphitheater in Jefferson City Capital Region, the Ozarks Amphitheater in Camdenton and the State Fair of Missouri to Sedalia. Times are subject to change as more updates are added.
MU Capital Region Healthcare Amphitheater
On May 27, two-time Billboard Country Album lead artist Aaron Lewis and The Stateliners will take the stage at the Capital Region MU Health Care Amphitheater. Lewis, a Vermont native who grew up with country roots, will stop in Jefferson City as part of his nationwide tour following the January release of 'Frayed at Both Ends', 'the most personal and unplugged work of the singer to date. The acoustic album also features the Lewis song "Am I the Only One", which was released in July 2021 as the album's lead single and debuted on Billboard's Hot Country Songs chart at No. 1. Tickets for the show are $36 on Ticketmaster, and the show starts at 7 p.m.
Step out for an evening of local music from bands SR-22, Toasterbath, New Car Scent, and Ruby Lane on May 28 as part of the amphitheater's "Live Under the Sun" event. Youth groups will perform original songs and covers, spanning the genres of pop and rock superstars. SR-22 is a familiar face – having played End of Summer Jam 2021 – and Toasterbath is a local name often seen at Porchfest and The Mission. Tickets are only $10 and can be purchased on Ticketmaster. The show starts at 6 p.m.
It's been a busy summer for rock band Gov't Mule, but they're making a stop in Jefferson City. Led by vocalist and guitarist Warren Haynes, known as "one of the most formidable guitarists and singers of the modern era and a prolific songwriter and producer," the band will take the stage at 7:30 p.m. on June 7. Tickets are $36. $59 and can be purchased on Ticketmaster.
Veteran musician and award-winning violinist Ricky Skaggs brings his own taste of country and bluegrass to the amphitheater on June 17. Ole Opry in Nashville, so the performance is not to be missed. Tickets cost between $31 and $59 and can be purchased on Ticketmaster. The show starts at 7:30 p.m.
Fifteen-time Grammy Award winner Béla Fleck, Sam Bush and the Jerry Douglas Band will bring another episode of bluegrass, banjos and bold, innovative music to town this summer as part of "Bluegrass Happening." The Jefferson City stop is part of Fleck's first bluegrass tour — "My Bluegrass Heart," titled after his 2021 album — in more than two decades. It's the third chapter in a bluegrass trilogy that began in the late 1980s and continues today, hitting three locations in Missouri and many more across the country. Tickets cost between $39 and $79 and can be purchased on Ticketmaster. The show starts at 7 p.m. on June 21.
Recently announced, mid-July will see the thrill of Californian rockers Buckcherry, who are fresh off a tour with "shock rocker" Alice Cooper. The show will take place at 8 p.m. on July 16 and is part of the band's support of their ninth studio album, "Hellbound." Tickets cost between $30 and $55 and can be purchased on Ticketmaster.
All Capital Region Healthcare Amphitheater entertainment events can be found at www.crmuamphitheatre.com/events/concerts. The amphitheater is located off Ellis Porter Drive in Ellis-Porter Riverside Park.
Ozarks Amphitheater
Coming May 18 at the Ozarks Amphitheater, Chicago-formed alternative rock band Smashing Pumpkins will stop in Camdenton as part of their "Rock Invasion 2" tour. The four band members will fill the room with their gritty vocals and guitar performances. Tickets for the 8 p.m. show are $45 and up on Ticketmaster. Seats near the pit are VIP Merch packages, and the site also offers Premium table seats (four people) for $180 each.
Sharing the stage on May 27 will be Tracy Lawrence and Clay Walker who will reunite with a full band and special guests Tracy Byrd and Jared Hicks. The show starts at 7 p.m., and the co-headliners and longtime friends are ready to perform some of their biggest hits for loyal country fans. Tickets start at $45 on Ticketmaster and sell out fast. Premium tickets for the show are currently sold out. Viewers can also purchase a 30-minute pre-entry VIP package for $150 each that includes an exclusive Q&A with the performers, early access to the merchandise table and more. These supplements must be accompanied by a valid event ticket.
Willie Nelson, iconic country singer and acclaimed veteran entertainer, will be coming to the Ozarks. The entertainer recently had to reschedule his tour dates due to a positive COVID-19 test with the Willie Nelson Family Band, but he will be back on the road for his June 3 appearance at the Ozarks Amphitheater. The show begins at 6:30 p.m. Tickets range from $45 to $175 and can be purchased on Ticketmaster with Premium Packages that include exclusive merchandise and an MP3 digital audio download of the live show. Premium seats are sold out.
Spend the evening with Jackson Browne at 8 p.m. on June 4 and join the artist in support of his Grammy-nominated album "Downhill From Everywhere." The day before, Browne will have kicked off his "An Evening With" tour in Maryland Heights. Tickets cost between $46 and $150 on Ticketmaster, and several VIP packages with exclusive merchandise are available. Premium bar seats are also still available for $180 but are going fast.
Whiskey Myers, Shane Smith and The Saints and 49 Winchester will all come to the amphitheater on June 10 for a night of country, rock, roots and soul fusion. Six-piece band Whiskey Myers, fronted by vocalist and guitarist Cody Cannon, stop in Camdenton as part of their 'Tornillo' tour ahead of their album release on July 29. Tickets cost between $35 and $65 on Ticketmaster. Premium seats are sold out.
Country pop singer Brett Young and special guest Chris Lane will perform on stage at the amphitheater on June 17. tracks. Lane, too, brings his own sound and accolades; three of his singles since 2015 have reached No. 1 on the Country Airplay chart. Tickets for the duo show are between $35 and $65 on Ticketmaster, and the remaining Premium Bar seats are $95. The show starts at 7 p.m.
Less than two months after their first-ever Grammy win with the song "Younger Me" and several European tour stops in mid-May, Brothers Osborne will head to the Ozarks on June 24. The duo, who have enjoyed a wave of success over the past half-decade as they forge their own sound in country music, are stopping as part of their "We're Not For Everyone" tour. Tickets cost between $35 and $85 on Ticketmaster, and Premium seats are available for $115.
Late summer concert-goers will have the chance to hear the harmonies of Little Big Town, coming to Camdenton on July 29th. The group, which formed in the late 1990s, is still going strong, having released its latest single, "Hell Yeah," on April 11 this year. More recently, throughout May and early June, they will have toured with Miranda Lambert as part of their popular "Bandwagon" tour. Tickets for the Little Big Town show at the amphitheater cost between $45 and $109 on Ticketmaster. Tickets for Premium seats are sold out. The show starts at 7 p.m.
Other upcoming shows at the amphitheater include Jason Isball and Unit 400 on July 1, Marie Osmond with the Missouri Symphony on July 6, Ozark Mountain Daredevils with the Kentucky Headhunters on July 9, Kansas with 38 Special on July 15. July, Get the Led Out on July 31, Hillsong United on August 3, Jamey Johnson on August 19, and the Black Crowes on August 20.
All Ozarks Amphitheater concerts can be viewed at ozarksamphitheatre.com/all-events/. A link to buy tickets is included on each event. The venue is located at 2629 N. Business Route 5 in Camdenton.
Missouri State Fair Concerts
Currently on the live entertainment lineup at the Missouri State Fair, concertgoers are in for a bit of everything – from Trace Adkins to ZZ Top to Casting Crowns. The fair runs from August 11-21, with a handful of live performances scattered around.
Trace Adkins is the star of the August 11 show, playing in the grandstand at 7:30 p.m. Tickets are $35 for the grandstand and $45 for the track. Adkins will be joined by special guest Lonestar. Earlier the same day at 2 p.m., the Nace Brothers then Queens BLVD at 8 p.m., both on the Budweiser stage. Travis Martin and Members Only will play on August 12, and The Vincents will play on August 13. Contemporary Christian rock band Casting Crowns will play in the grandstand at 7:30 p.m. on August 16 with tickets selling for $25 on the grandstand and $30 for the track. Earlier the same day, starting at 2 p.m., Twisted Fate will perform on the Budweiser Stage. Coming on August 17 are The Vincents, Mad Hoss Jackson and ZZ Top, who stop in Mid-Missouri as part of their "Raw Whiskey" tour. Ticket prices for ZZ Top are currently not listed. After ZZ Top, Clay Clear Band will play on August 18 and Dirt Road Addiction will play on August 19, both on the Budweiser stage at the fairgrounds.
Grandstand tickets go on sale from 9 a.m. on June 28 via Etix, and all concert seats are reserved. Visitors can follow the live entertainment as more details are added at www.mostate fair.com/attraction-type/live-music/. The fair will be held at 2503 W. 16th St. in Sedalia.