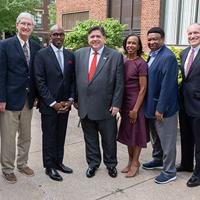 Announcing a New Criminal Justice and Workforce Center in Belleville | New
The former site of Lindenwood University's Belleville Campus is being transformed into the Southwest Illinois Justice and Workforce Development Campus.
It is a partnership between Southern Illinois University, Southwestern Illinois College, the Illinois State Police, and the City of Belleville.
Governor JB Pritzker visited the site earlier this week to talk about the grant the state is helping to make the idea a reality.
At that same press conference, Southern Illinois University system president Dan Mahony said the 25-year goal is to expand Carbondale's SIU legal footprint to an area of ​​the state that has the largest number of attorneys outside of Chicago.
Democratic state Rep. Katie Stuart of Edwardsville said she was confident the new center would be a source of pride for the area.
Governor Pritzker said the variety of on-campus offerings, operated and maintained by SWIC, will transform passionate students into law enforcement professionals, from police officers to lawyers to medical examiners.