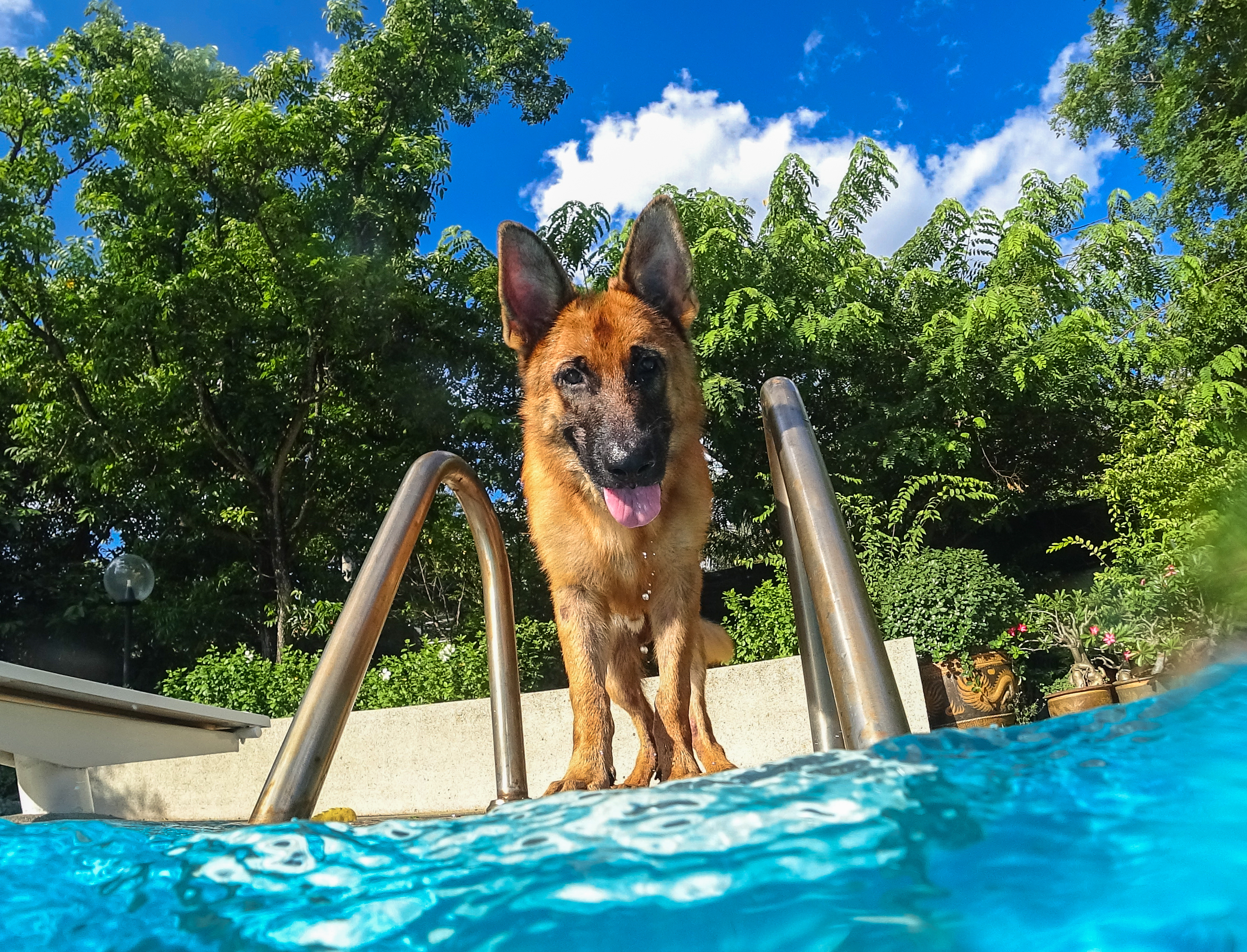 German Shepherd relaxing on the water with a swimming pool Noodle Delights Internet
A video of a German Shepherd "chillin' in a swimming pool has gone viral on TikTok.
The video, shared by user mohamedboutaleb35, had 6.1 million views and 460,000 likes at the time of writing. It depicts a German Shepherd sitting upright against the edge of the pool, its two front paws resting on a swimming noodle.
The video was simply covered in a laughing emoji, with music from Bobby McFerrin's "Don't Worry, Be Happy" playing in the clip.
Studies have shown the therapeutic and calming benefits of interacting with dogs, but what helps dogs relax?
According to a January 2020 study in the peer-reviewed journal Animals"exposure to classical music appears to have a calming influence on dogs in stressful environments…"
The study explained that "the effects of music on the health and well-being of non-human animals vary widely depending on the type of music played, the ethology of the species, the personality and the history of learning. of each animal.
"The use of music in the context of pets shows great potential as an effective and easy-to-implement therapeutic measure with numerous benefits for animal health and welfare," the study concludes.
According to a March 2017 study in the peer-reviewed journal Physiology and behavior, Classical music has been shown to reduce stress in kennel dogs.
The study found that "auditory enrichment" causes positive behavioral and physiological changes in kenneled dogs.
Different genres of music (particularly soft rock and reggae) were associated with greater heart rate variability (indicating less stress) and more relaxed behavior.
Regardless of the music genre, dogs were found to spend "significantly more time lying down and significantly less time standing" whenever music was played.
The study also showed that increasing the variety of music "minimizes the extent of auditory enrichment habituation."
Several TikTokers have been elated by the latest viral video of a German Shepherd living "the best life".
Jeremy Heeter-Jones wrote that the dog is just "Chillin! Live the best life [sunglass wearing smiley face emoji]," in a comment that got 833 likes.
ElMoPe agreed, writing: "[crying laughing and sunglass wearing smiley face emojis] best life ever," while Gypsy said, "Love life! [crying laughing and floating hearts smiley face emojis]."
Shane Ridehalgh chimed in, noting: "Dogs like yes can I help you why are you filming me I'm just chilling with my noodle nothing to do here [white teeth showing and floating hearts smiley face emojis]."
Some said the dog looked like it needed a drink, like Gabriela Fernandez, who commented: "[multiple crying laughing emojis] he is very comfortable there [white teeth showing smiley face emoji] he also needs a drink please."
Martins Braslins agreed, saying the dog must be thinking, "What are you looking at? I told you to bring drinks," while user 4147267173167 said, "So cute. [floating hearts and tearful laughing smiley face emojis] maybe want [cocktail drink emoji]."