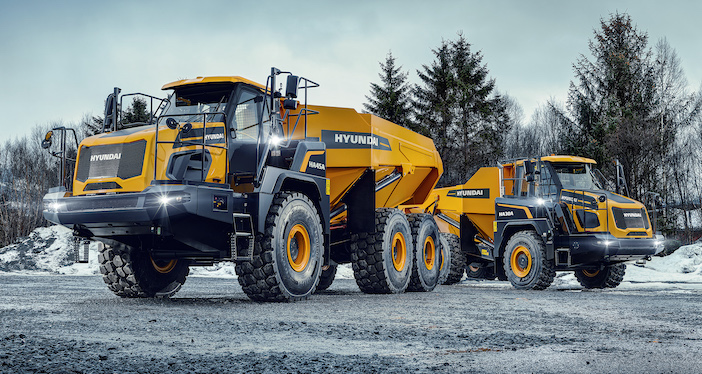 Hyundai unveils new articulated haulers in Hillhead, UK
Today (June 21, 2022), Hyundai Construction Equipment used the Hillhead show in the UK to launch two new models of articulated haulers, as part of its expanding range of heavy construction and earthmoving equipment. The HA30A and HA45A have rated payloads of 28 tonnes and 41 tonnes respectively, providing an ideal haul truck match for Hyundai's larger crawler excavators and wheel loaders.
Both models use innovative and proven design and technology to deliver high productivity and superior on-site mobility, and are built around a permanent all-wheel-drive concept, with front and rear limited-slip differentials and a differential longitudinal that can be locked manually. , for maximum ride and traction in difficult terrain.
The trucks have a compact frame design, for easier handling, with a sloping rear frame and a front-mounted differential integrated with the ZF transmission, allowing for a shorter front frame section. The result is the smallest turning radius in the industry and exceptional stability. The self-leveling hydro-gas suspension on the front axle additionally promotes a comfortable ride, providing maximum maneuverability in difficult ground conditions.
The swivel ring is mounted in front of the chassis pivot point, allowing even weight distribution to the front wheels in all driving situations, for increased stability and traction. The equal weight distribution allows the operator to use the limited slip differentials with a locking value of just 45°, maintaining drive to both front wheels even when steering.
Both rear axles use a tandem bogie drive design, with a single center differential and two internal gear drives on each side of the truck. These tandem drives rotate a total of nearly 40°, allowing maximum oscillation of the rear axles to maintain ground contact over rough terrain. Unique center differential increases ground clearance under the truck.
The HA30A and HA45A are fitted with a full hydraulic retarder, combined with an electronic engine brake as standard. This supports oil-cooled wet disc brakes to achieve extended life of up to 15,000 hours. A hydraulically operated mechanical parking brake keeps the machine stationary. The trucks are supplied with a grade indicator, with rollover protection and a Body Over Center of Gravity feature, to assist drivers when tipping and operating on uneven terrain.
The sloping rear frame section distributes the load evenly between the front and rear axles. The HA30A has a 16.8m3 crammed body capacity, which amounts to 17.8m3 with a tailgate mounted. The larger HA45A offers a 24.4m3 accumulated capacity, increasing to 26.0 m3 with a tailgate. Both tippers can optionally be heated by engine exhaust, to prevent freezing and sticking of materials when operating at colder temperatures. Internal wear plates are available as an option for use in hard rock.
Proven powertrain
Hyundai used powerful EU Stage V compliant Scania diesel engines to power both trucks. The HA30A uses a DC9 9.3-liter turbocharged five-cylinder diesel, developing 375 hp (276 kW) and 1,876 Nm of torque. The larger HA45A uses a 12.7-liter six-cylinder DC13 diesel engine, producing a maximum of 500 hp (368 kW) and 2,476 Nm of torque.
Both engines are driven by ZF eight-speed automatic transmissions with integrated retarders. The torque converter locks up in all gears, reducing fuel consumption and increasing efficiency. Fuel, AdBlue diesel engine exhaust fluid and a standard automatic greasing system are all easily accessible from ground level, for added site safety. The engine hood tilts forward to access filters and fill points, while the entire cab structure can also be tilted towards the rear of the truck, to allow access for repairs and maintenance. 'maintenance.
Hyundai's Himate telematics monitoring system comes standard, with satellite and GSM connectivity, to reach the most inaccessible construction and mining sites around the world. This allows customers to remotely monitor productivity, fuel consumption, system warning and maintenance status, reducing unplanned downtime and improving fleet utilization.
Comfort and protection
With the most spacious ROPS/FOPS cab on the market, the Hyundai ADT features an ergonomic layout of controls, easily accessible from the high-quality air-suspended operator's seat. The specification includes an MP3 and Bluetooth compatible radio, USB charger, versatile safety rails and a footrest. There is plenty of storage space around the cab interior, with room for an optional cooler/warmer and 12V power outlets for operator phones and other accessories. Full cab air conditioning is standard on both models and the cab offers an internal noise level of just 72 dB(A), for maximum comfort throughout the working day.
The sloped hood provides an excellent view of the front of the truck and there are sliding side windows with handrails on the side of the seat. A comprehensive control panel provides an integrated payload indicator, to prevent overloads and record productivity. Diagnostic functions are included in the monitoring system and the operator can remotely check hydraulic and transmission oil levels from the cab. A grade indicator ensures the truck is driven safely within its limits, while an integrated reversing camera and large mirrors provide excellent all-around visibility, when reversing under a shovel or in the tipping zone.
The Hyundai HA30A and HA45A articulated dump trucks are an ideal excavation partner for a wide range of crawler excavators and wheeled loaders. Designed primarily for large earthmoving and clearing projects, highway construction, and mining and quarrying operations, Hyundai articulated haulers provide maximum drive and traction in the toughest jobsite conditions, maintaining productivity all the way. year for the customer.
The two ADTs are the first visible sign of the new cooperation between Hyundai Construction Equipment Europe (HCEE) and Hyundai Doosan Infracore (HDI), since the acquisition of the Doosan business by the Hyundai Heavy Industries group last year. HCEE and HDI now operate as separate divisions within Hyundai Genuine, retaining their independent management and dealer network structures.
Further technological integration will create natural synergies between the two companies, in research and development, design, engineering, supply and manufacturing, thereby increasing the Group's profitability. The two companies will develop integrated platforms for excavators and wheel loaders, while their individual sales power will be strengthened through the marketing of complementary equipment.