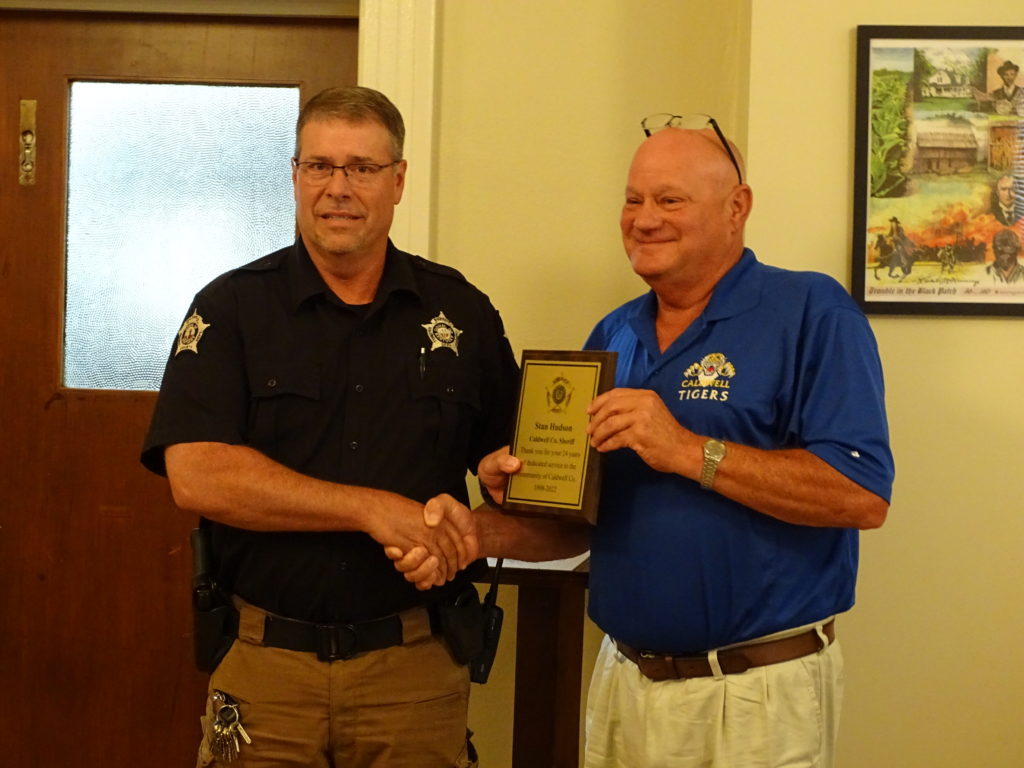 Retired Sheriff Stan Hudson recognized by court | WPKY 103.3 FM
Caldwell County Tax Court recognized the county's most senior sheriff at Tuesday's meeting.
Executive Judge Larry Curling paid tribute to Sheriff Stan Hudson who is retiring Friday, July 1 after serving the county for more than two decades.
click to download audioDistrict 3 Magistrate Brent Stallins presents a plaque to Sheriff Hudson.
During comments from department heads and magistrates, Chief Deputy Chris Noel of the Sheriff's Department thanked Hudson for his service and hard work.
click to download audio Caldwell County jailer Jon Pettit said he worked for Hudson and learned a lot from him.
click to download audio County Attorney Roy Massey IV added that he couldn't say enough good things about the sheriff and the great relationship between his office and the sheriff's office.
County Clerk Toni Watson also laughingly shared her comments about Hudson and said she enjoyed working with him.
click to download audioDistrict 1 Magistrate Elbert Bennett thanked Hudson for always being there to answer calls.
click to download audioDistrict 2 Magistrate Jeff Boone also said he was grateful for Hudson's service to the county.
click to download audio District 3 Magistrate Brent Stallins and District 4 Magistrate Jeff Simms congratulated Hudson on his retirement.
The public is invited to a retirement reception which will take place at 11 a.m. – 2 p.m. Wednesday in the Small Courtroom of the Caldwell County Courthouse.